---
These classic designed miniatures are crafted to catch your eye and your heart. Whether you're looking for an outstanding gift or simply styling your space, these beautiful pieces are a charming accent to any ensemble. Taking on a timeless good looking style, it is crafted out of resin with versatile finishes of black or bronze. 
Product Details:
Material
Resin
Sizing Ear
13inch height x 6inch width x 4.5inch depth
Sizing Eye
13inch height x 6inch width x 4.3inch depth
Sizing Mouth
13inch height x 6inch width x 4.5inch depth

Weight

~ 1kg / 2.2

lbs
Yes, after your package arrived you have a 14 day time frame. You can simply send us an email an notify us about your return. We will send you a prepaid shipping label which you can use to send the item to our return address.
All products are insured during the shipping process. Any unwanted issues in material will be fully refunded or reshipped to you for no additional extra costs.
All electric operated items have a 3 year warranty service included. In case your product stops working, please message us the problem via email. We will send you the necessary replacement pieces to make your product work again. There won't be any surcharges for you in case a lamp should have any problems within the first 3 years.
Customer Reviews
Unfortunately one sculpture was out of stock as I ordered it. They messaged me about this and offered me to pick one sculpture of their website for free. I picked the one in the photo and it looks awesome! I'll receive my missing black sculpture in a few days also. All in one I'm very happy with this.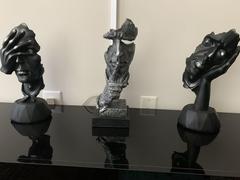 I bought one sculpture and regret that I haven't bought all 3 together. It looks exactly like in the photos, very nice sculpture!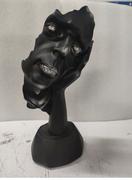 Your products are beautiful and the quality is great! They look fantastic in my place.